A few days ago I baked these really nice Spring Cookies! We made 3 flavours of cookie - Vanilla, Lemon and Cocoa.
We had a recipe that makes only 6 cookies so that was not enough. So we timesed the ingredients by 3 to make three times the amount. So here is the basic recipe to make 6 of them but you might want to double or treble it to make more.
Ingredients:
50g butter or margarine
25g caster sugar
1 egg
100g plain flour
And then you can add either a little vanilla extract, or a tablespoon of cocoa powder or the zest and juice of a lemon depending on which flavour you want to make. Or you could make three times the amount of cookie dough and make three types like we did.
My little sister was mega-excited about helping me!
Method:
1. Pre-heat oven to 160 C and line baking tray/s with greaseproof paper.
2. Mix together the butter and caster sugar. We used an electric mixer but you could just mix it with a spoon in a big bowl.
3. Then add the egg and mix and then add the flour and mix that in too.
4. Then depending on what type of cookies you are making add the lemon zest and juice or the cocoa powder or the vanilla extract. (If you are making a big batch to make all three types remember to divide the cookie dough into three separate bowls before you add the flavours to each.)
5. Mummy was making the lemon ones and adding the lemon made the mixture go too runny so she had to add lots more flour. It meant that her cookies turned out tasting a bit more bready and cakey tasting rather than cookies but it didn't matter.
6. Wrap the cookie dough in cling film and chill in the fridge for 20 minutes.
7. Roll out the dough on a floured surface and use cookie cutters to cut out the shapes you want to make. We had some new cookie cutter shapes to use so had lots of shapes to choose from.
8. Bake them in the oven for about 15 or 20 minutes.
If you want to decorate them afterwards you need to wait until they are completely cooled. Mum decorated some of them but I was happy eating mine without being decorated (so was my sister).
My mum is going to tell you how she decorated them to look all spring like:
Mum:
As I don't have any icing piping equipment and I've never had any success in making my own piping bags using either a small sandwich bag or making a cone from greaseproof paper - I had to come up with an alternative way of icing my cookies.
First I made a little icing 'glue' by mixing some icing sugar with a tiny bit of water. You really need just the tiniest amount of water.
Then I rolled out some coloured ready-to-roll icing and used cookie cutters to cut shapes to match the cookie shapes I wanted to cover. You might need to use a slightly smaller size cookie cutter or just trim off some of the edges of the icing for it to fit neatly. You can use a little icing sugar to stop the icing from sticking to the surface.
I had some yellow icing leftover from D's Minion cake so I used that for my bee-themed cookies. Then it was just a case of adding some black stripes.
The ladybird themed ones are simply red icing 'glued' onto the cookies with my icing glue with small black icing dots.
The spring flowers are just green ready-to-roll icing with small flowers 'glued' on top. I have a little flower cutter that I used to cut the flower shapes. Et voila Spring themed yummy cookies!
Linking up with Raisie Bay's Kids in the Kitchen: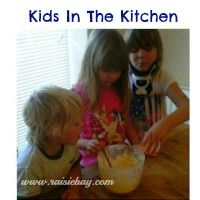 And with Clarina's Contemplations Savouring the Season: